Our Fleet of Prestige Vehicles at Take The Chauffeur
Our elite range of chauffeur-driven luxury vehicles offer the ultimate in style, safety, comfort and refinement. These cars have that wonderful understated elegance, prestige and styling, offering the most reliable engineering and specification.
Our executive business fleet brings a first class level of unqualified luxury that is demanded by our most discerning VIP clients. The first class chauffeur drive car selections from Take the Chauffeur are all perfect  for optimum travel comfort in the Cities of Birmingham, Bristol, Manchester or London or for Inter-City travel – let us take you door to door often for a similar cost to a first class rail ticket without the time restrictions and waiting at stations. Our First Class selection of vehicles will comfortably seat three people (plus the chauffeur) and are fully licensed. All our first class chauffeur driven cars have ample luggage space for suitcases.
Chauffeur Driven First Class Cars by Take the Chauffeur offer the ultimate chauffeured experience, elegant style and safety. First Class is perfect for luxury Corporate and Executive travel in and around Birmingham, Manchester or London. We can cater for all first class travel arrangements throughout the UK and arrange Helicopter travel too.
First Class Features – Jaguar – Mercedes E Class – Range Rover
Tranquil, noise-free climate controlled interior – Ventilated multi-point adjustable seats – Long wheelbase for extra legroom
High Quality Audio System – Wi-Fi for you Laptop or Ipad – Darkened Privacy Glass
Ample Luggage Room – Event Travel arrangement – Nationwide Travel arrangement
Helicopter arrangement – Complimentary Refreshments & Papers
Take the Chauffeur offer a nationwide Range Rover Chauffeur Car service with our luxury Range Rover sport four wheel drive. A high specification chauffeur-driven vehicle with great leg room which is perfect for Airport transfers and popular for sporting events.  For a spacious, quite safe and luxurious chauffeur experience our Range Rover Sport has it all.
The Take the Chauffeur Corporate Class with Mercedes Viano offers stylish comfortable air conditioned transport for you multi-passenger executive travel.
Our Corporate Class Mercedes Viano's comfortably seat Seven people (plus the chauffeur)and up 7 suitcases or flight cases. Our Viano Corporate Carriers are a stylish and classic choice for business and private group transport. For those looking for style, comfort, capacity and practicality the Viano offers  more space and the flexibility to continue with your work whilst on the road.
Corporate Class Features
Wi-Fi for laptops & ipads – Full Air Conditioning – Laptop power points
Darkened privacy glass – Leather upholstery – Onboard Cooler box
Large Extra luggage space – Smart and stylish group transport
Refreshments can be arranged
At Take the Chauffeur, we understand the necessity of providing the best possible service when it comes to elite chauffeur services and the requirements of providing a top quality reliable and confidential service based around you, our client. Our aim is to offer the most professional chauffeur services in Birmingham, The West Midland and NATIONWIDE across the United Kingdom, so that when people see you arriving in our classy and sleek cars, they will be rolling out the red carpet!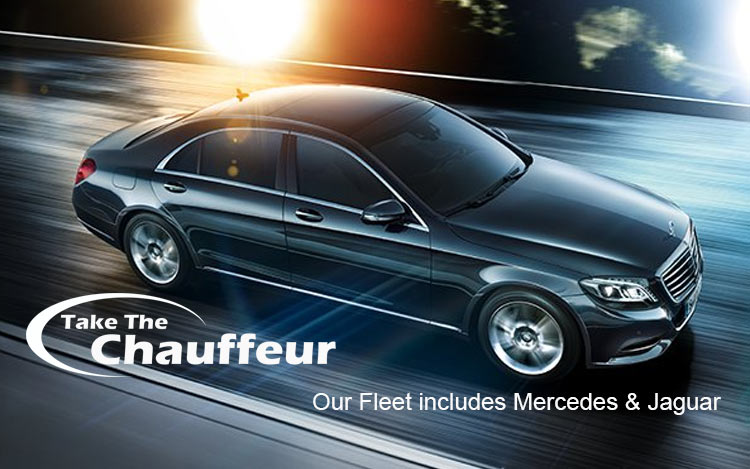 You only get one chance to create a first impression and as well as helping you create a great first impression, we want to be sure to create a great first impression with you. Choose from our fleet of Jaguar's, Mercedes and Range Rovers, known to be the best choices for professionally driven Chauffeured travel. You will have every comfort and luxury available and all the room in the world to stretch out and enjoy your journey!
We ensure we have the finest  luxury chauffeur driven cars in the entire country, and we pride ourselves on the perception we have achieved through our long experience with business and leisure clients. Our staff feel like they are part of something special – and we want you to feel that way too. We give you the ultimate alternative to flying or rail travel, we will get you to your destination on time, relaxed, and ready to do your business in a timely, efficient and relaxed manner.
Be it a business conference or a staff meeting, corporate roadshow or exhibition we offer you a fantastic and professional service which means we will always be ready to pick you up on the dot, so you know that you are getting home in the best possible fashion.
Why not speak to us at " Take the Chauffeur "  today. We regularly work with some of the biggest names in the UK and would very much like to add you to our list of happy clients who are delighted to use us, time and time again.
For further information on our business and corporate chauffeur services in Birmingham The Midlands and the rest of the United Kingdom, call us today or use a quick quote form and let one of our experienced, expert team take care of all your executive travel arrangements for you. We can now also help with accommodation.